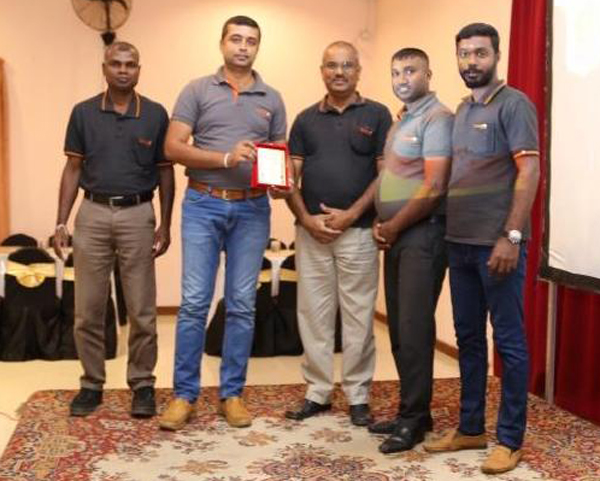 Crysbro, one of Sri Lanka's leading and largest poultry producers, recently assessed the overall performance of its transport cadre, at the Crysbro Transport Service Conference and Evaluation Ceremony, which was held recently at the Lotus Mahal Hotel in Gampola.
In the lead-up to the proceedings, a group of 39 high-performing employees were identified from within the ranks of its transport personnel, housed across all 18 of the company's business centres.
These staff members were rewarded with cash prizes after being judged against both broad and strict criteria. Furthermore, employees of the Transport Services Assistance Unit were also commended for their efforts.
The Crysbro Transport Service Conference is held twice a year to evaluate the performance of the Crysbro Transport and Support Services sectors and aids in the enhancement of these units' employees.
Commenting on the Crysbro Transport Service Conference and Evaluation Ceremony, Crysbro Group HR and Administration Manager Ranjana Mahinda Siri said: "This seminar is a semi-annual event organised by the Crysbro Human Resources Division to improve employee morale and knowledge. Resting at the core of all these programmes is a firm desire to promote a happy working environment. We truly believe that if employees are satisfied, they can contribute to the growth of the company more effectively and efficiently."
A special lecture was also organised alongside the Crysbro Transport Service Conference and Evaluation Ceremony, with a view of enhancing employees' motor vehicle expertise. Toyota Lanka contributed its resources to aid in the conduct of this special training session.
Among the many concepts detailed during this forum were measures to address concerns with a car's batteries, tires, engine and gear system.
A special lecture was also organised under the patronage of the Traffic Police Officer in Charge of the Gampola Police Station, where Crysbro Transport employees were briefed on the social responsibility of a street driver and the importance of observing road rules.
Established in 1972 with just 100 chicks and a deep desire to be a market leader in quality and innovation, Crysbro has emerged as Sri Lanka's first and most sophisticated, fully vertically-integrated poultry producer. Its operations span grandparent and parent farms, hatcheries, broiler farms and feed mills. This thriving 'Farm-to-Fork' concept has formed the core of its success. In turn, it has yielded unprecedented benefit for numerous stakeholders including direct and indirect employees, outgrowers, domestic maize farmers and ultimately Sri Lankan consumers.