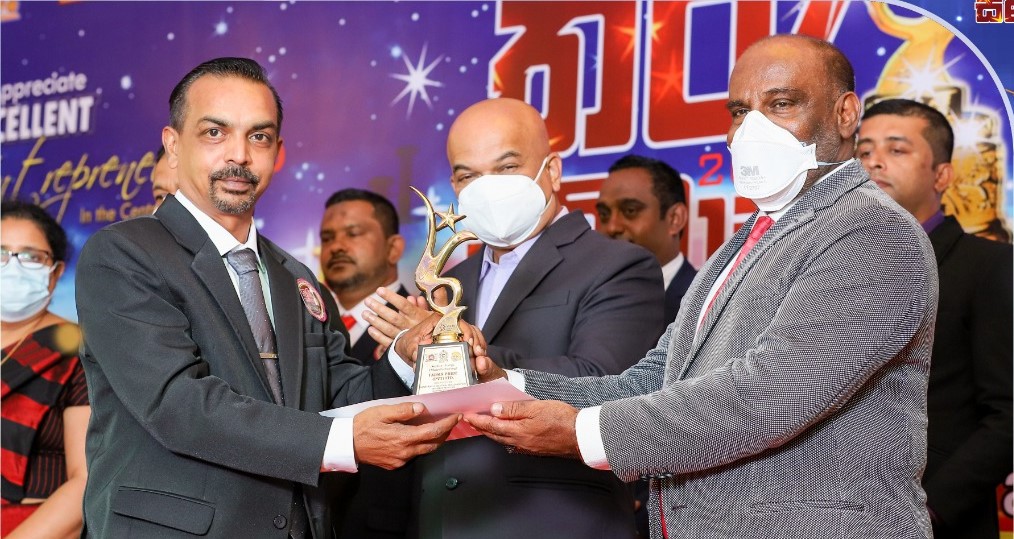 12 February 2021: Affirming their leadership in Sri Lanka's poultry industry, the country's largest producer of poultry CRYSBRO was recently recognized for their entrepreneurial excellence at Star Awards 2020. Organized by the Department of Industrial Development and Entrepreneurship Promotion of the Ministry of Industries of the Central Province, the annual State Awards ceremony saw CRYSBRO's subsidiaries Farm's Pride (Pvt.) Ltd wins a 'Star Award' and Midland Breeders (Pvt.) Ltd wins the highly coveted 'Merit Award' as the Best Performing Entrepreneurs in the large-scale manufacturing category within the Central Province.
The prestigious awards ceremony was held on recently at Grand Kandy Hotel with Governor of the Central Province, Lalith U Gamage attending as its Chief Guest. Held annually, Star Awards is known for its comprehensive assessments of its entrants which entail a mix of field visits, presentations, and several rounds of thorough interviews. They assess both the performance of the organization and its operations, as well as its entrepreneurial spirit.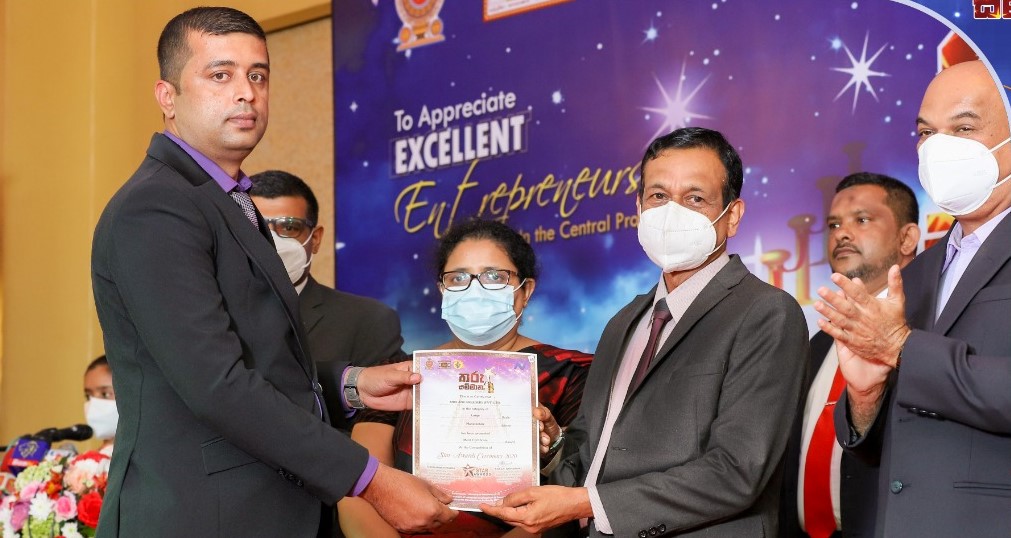 "We are deeply humbled and honored to receive this national recognition for entrepreneurial excellence and resilience especially during these challenging periods of time. Our primary intention when applying to awards is to gain a better understanding of industry best practices and continue to elevate industry benchmarks within our own operations. The comprehensive assessments done by State awards shows also give an opportunity to find where we have to improve and what we are doing right so that at the end of the day we provide poultry produce of the highest quality and safety to our customers. This is invaluable intel and winning an award thereafter is a cherry on top. I would like to also highlight that this victory is a clear reflection of the collective commitment and hard work put in by the team at CRYSBRO as well as the patronage of our loyal customer base, stated CRYSBRO Group of Companies, Group HR and Admin Manager Ranjana Mahindasiri. 
As Sri Lanka's largest poultry producer, this marks the second time the company is recognized for its excellence in operations. They were first awarded a state honor with the 'Lak Rakiya Harasara' award by the Ministry of Manpower. 
CRYSBRO actively contributes to bolstering the country's food security agenda as well as towards empowering the rural economy and its communities and has incited major communal and economical transformation in these regions through a series of powerful grass-root initiatives. 
Under CRYSBRO's 'Diri Saviya' program, over 1,200 maize and rice farmers, as well as 250 plus poultry smallholders, are given access to a wealth of essential technical and infrastructural facilities to strengthen their operations, allowing them to sell their produce at market prices without the need for any intermediaries. Through 'Sisu Diriya', the company offered study material, scholarships, and corporate internships to school children and students completing their university or vocational education. The project also contributed to the development of better infrastructure facilities in under-developed schools across the island, as well as the donating of books to libraries.
'Praja Aruna' lead the construction of 34 new houses for the under-privileged and renovated 80 houses, while 'Haritha Sathkara' and 'Suwa Shakthi', focused on fostering environmental protection and good health amongst rural communities respectively. The CRYSBRO Next Champ program supports and nurtures the aspirations of young athletic talent across the island, helping them reach international success. It has so far yielded significant results across the island, including the fruition of a groundbreaking partnership with the National Olympic Committee of Sri Lanka. 
Moreover, CRYSBRO's chicken products are known and trusted by Sri Lankans for their high quality, nutritious nature, given that they are processed in facilities that implement state-of-the-art biosecurity measures. Operating in an industry that places a high value on food safety, all of CRYSBRO's processing plants and offices have long adhered to strict international standards in terms of health and safety. 
Established in 1972 with just 100 chicks and a deep desire to be a market leader in quality and innovation, CRYSBRO has emerged as Sri Lanka's first and most sophisticated, fully vertically-integrated poultry producer. Its operations span grandparent and parent farms, hatcheries, broiler farms, and feed mills. This thriving 'Farm-to-Fork' concept has formed the core of its success. In turn, it has yielded unprecedented benefit for numerous stakeholders including direct and indirect employees, out growers, domestic maize farmers, and ultimately Sri Lankan consumers. These local links have immeasurably aided domestic production and led to a reduction in reliance on imported poultry products.