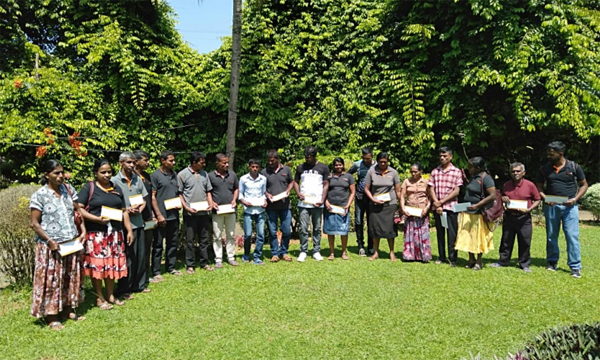 Sri Lanka's leading and largest poultry manufacturer Crysbro has made a financial donation to renovate the homes of 21 of the group's employees through its Crysbro Praja Aruna CSR project, which is designed to empower its staff.
The funds were provided to employees in urgent need of such assistance, who work at Crysbro's island-wide business centres.
The initiative, which was the brainchild of the group's HR & Administration Division, was graced by Group Chairman and Managing Director Mr. Mohamed Imtiaz.
The Crysbro employees who received this housing assistance were given Rs. 100,000 each, which was provided entirely through the Crysbro Staff Welfare Fund. Six female employees and 15 male employees were deemed eligible for this financial grant.
Launched in 2012 by Mr. Imtiaz, Crysbro Praja Aruna is the group's premier welfare & CSR initiative. Since its inception, 34 houses have been constructed on the request of employees and based on standard selection criteria aided by this project while more than 60 others have donated money for the renovation of their houses. So far Crysbro has invested Rs. 35,350,000/- under the Praja Aruna program.
"The Crysbro Group focuses on CSR and all aspects of community support and empowerment through its Green Care (Haritha Sathkaaraya), Sisudiriya, Suwasakthi, Diri Sawiyaand Next Champ programs targeting the group's employees and the wider community. The Crysbro Group's sole objective is to empower our people socially and economically as well as in the avenues of health, education and sports, as our primary commitment as a fully Sri Lankan company rests solely with all Sri Lankans," stated Crysbro Group HR & Admin. Manager Mr. Ranjana Mahindasiri.
"The empowerment of employees is one of the main tasks of the Praja Aruna program as it is directly linked to employee productivity and their associated economic and social development. This donation is made possible by the Crysbro Staff Welfare Fund, which was launched to cater to the needs of employees and also provide various other benefits at our 18 business centres every year. The Crysbro Group plans to continue addressing the needs of more people in the years ahead."
Established in 1972 with just 100 chicks and a deep desire to be a market leader in quality and innovation, Crysbro has emerged as Sri Lanka's first and most sophisticated, fully vertically-integrated poultry producer. Its operations span grandparent and parent farms, hatcheries, broiler farms and feed mills. This thriving 'Farm-to-Fork' concept has formed the core of its success. In turn, it has yielded unprecedented benefit for numerous stakeholders including direct and indirect employees, outgrowers, domestic maize farmers and ultimately Sri Lankan consumers.