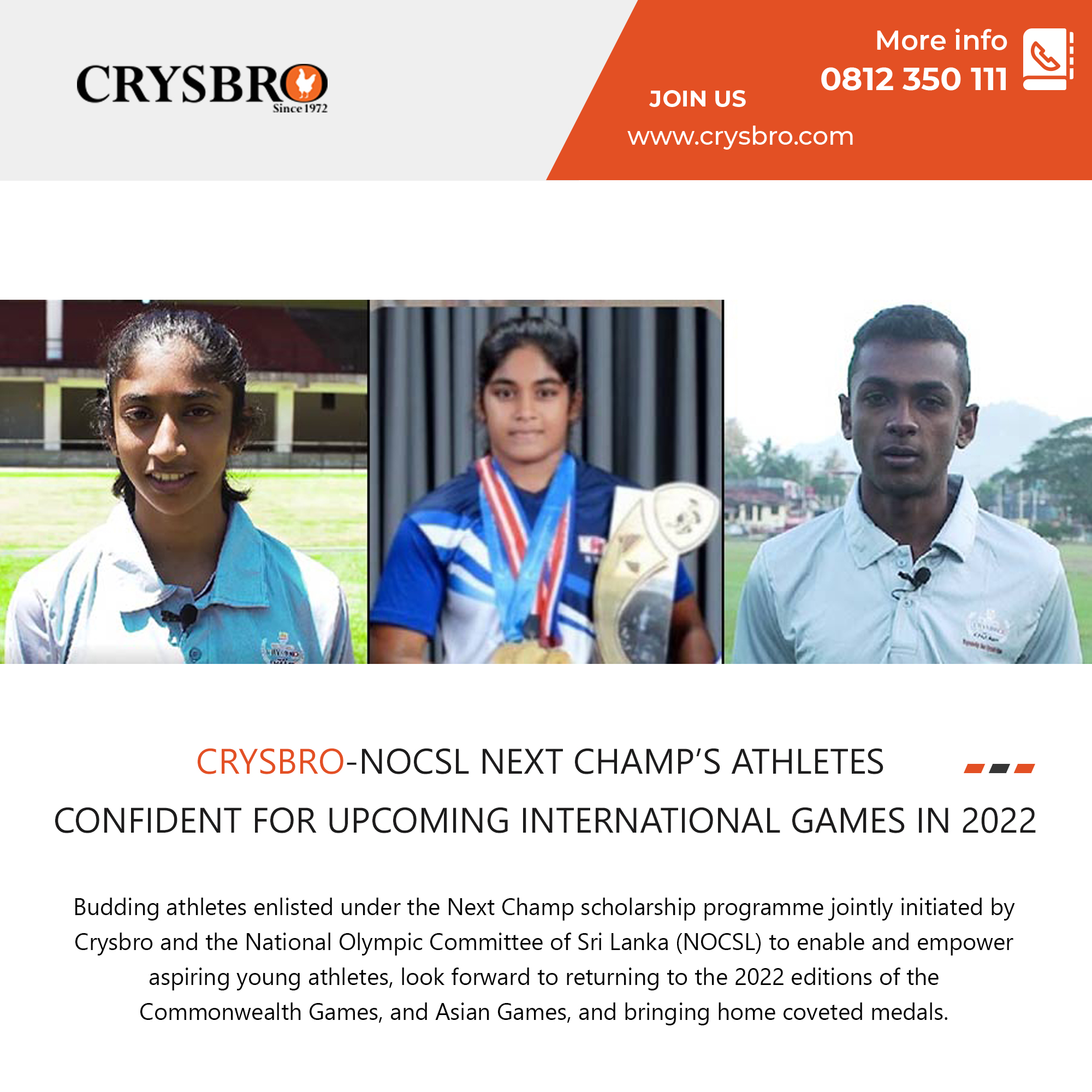 Budding athletes enlisted under the Next Champ scholarship programme jointly initiated by Crysbro and the National Olympic Committee of Sri Lanka (NOCSL) to enable and empower aspiring young athletes, look forward
to returning to the 2022 editions of the Commonwealth Games, and Asian Games, and bringing home coveted medals.
A noteworthy recipient, aspiring young athlete Ravindu Jayasundara, who represented Sri Lanka in the World Junior Athlete Championship 2021 – Kenya, currently holds 20 Gold, three Silver and three Bronze medals, and shows no sign of slowing down anytime soon.
Sharing his thoughts on the tournament, he noted that his experience was surreal, as it was the first time ever he had travelled out of the country, to represent his nation at the World Junior Games.
"It took a lot of practice and many trials, both in life and in the field, to get here. I am looking forward to returning to the World Junior Games and giving it my best to bring home a medal," he said.
Further, he expressed his gratitude and thanked the NOCSL-Crysbro Next Champ initiative for enabling him to take part in the tournament with confidence.
"The scholarship came as a huge blessing, especially in an economically challenging time such as now, where your family has to painstakingly struggle to support and sponsor your athletic needs. Through the Next Champ program, I've fully realised my potential and have the capacity to give my best. I sincerely thank the National Olympic Committee and Crysbro for their support, and hope they continue to support athletes like me through similar initiatives," he added.
Moreover, also representing Sri Lanka at the World Junior Wrestling Championship 2021 – Russia, in the 57 kg weight class, 17-year old Nethmi Fernando assures that she will work hard and bring pride to her motherland in the upcoming competition, with the exponential support of the CRYSBRO-NOCSL Next Champ scholarship program.
"The World Junior Championship was an experience that taught me a lot. When I took part in the National Level Championship, I was eliminated in the first round. Instead of taking this as a failure, I continued to train harder, learning from my mistakes, and gave it my best at the following National Championship, emerging victorious with a Gold medal," said Fernando.
She said that while this was a learning curve in addition to her experience at the World Junior Championship, she has now identified her strengths and weaknesses and is training for the upcoming tournament.
She expressed that her coach and fellow trainees had to overcome many challenges to get to where they are now, and that "we did not have any training equipment, and my coach used to watch DIY videos on making training equipment, and we used hand-made equipment. Even to participate in these tournaments, my family had to go through severe financial challenges, going to the extent of pawning their jewellery to pay for my requirements".
"This is why I am ever so thankful for all the aid and support provided to children like me. The Next Champ program by Crysbro and National Olympic Committee has really enabled me to carry my own performance without burdening my family or my coach. I would like to thank them for their support as it helps develop children like us and uplifts sports in our nation as well," she added.
Additionally, confident and young athlete Tharushi Karunarathna commits to hard work and bringing pride to Sri Lanka by achieving victory at the upcoming World Junior Games. She represented Sri Lanka at the World Junior Athlete Championship 2021 – Kenya, as a runner in the 400 m relay team.
She mentioned that despite the many obstacles, she had unleashed her full potential and marked her personal best at the trials for the World Junior Games.
"The pandemic has thrown unexpected challenges our way, but I continued to work hard and overcome these obstacles and give my best because the opportunity was rare and significant. I believe that with the support of my coach, family and the many supportive hands, I was able to give it my all," she said.
Karunarathna further noted that the invaluable exposure which enabled her to observe her fellow peers from around the globe shed light on unique training methods and techniques. She was able to realise that in addition to athletic tactics, physical build-up and nutrient-levels can give a competitive advantage.
"This is quite important as my local athletes and I have to work on building on these aspects as well," she said.
"The scholarship was very helpful in multiple ways, and allowed me to give my best shot at the tournament. The expenses were quite high, given that I am not from Colombo and had to frequently travel to and from Colombo for training and tournaments. Apart from travelling, I also had some requirements for athlete-gear, including spike shoes which I purchased through the scholarship fund," she said.
Crysbro's 'Next Champ' program so far has successfully paved the path towards supporting the aspirations of, and uplifting over 150 talented male and female youth athletes from Sri Lanka towards the international sports arena.
The program aims to provide financial assistance to more competitive youth from underprivileged regions, who have the potential to enter flagship events such as the Asian Games 2022, Commonwealth Games 2022, and 2022 Asian Youth Games. The initiative has also successfully produced a collection of athletes who secured gold and silver medals at the 2019 South Asian Games in Nepal.
The scholarships cover the costs of nutrition, transportation, coaching fees, accommodation, clothing and sporting gear, and medical expenses necessary for the training, grooming and development of each selected athlete. Young athletes are also given access to a combination of high-value tools and world-class mentors, including foreign training exposures.
Additionally, Crysbro, along with the NOCSL, kicked off 'Next Olympic Hope', an extension of the 'Next Champ' scholarship program, to allow the public to support 20 young athletes selected from the NOCSL-CRYSBRO Next Champ program, who have proven themselves through multiple wins in both the local and international arenas.
Through 'Next Olympic Hope', Sri Lankans living within and outside the country can make well-deserved donations to support these young and budding athletes, via www.nextolympichope.com.
Crysbro Next Champ not only recognises and rewards young sporting talent from all corners of the country, but also grooms budding athletes from multiple sporting disciplines with guidance from experts on aspects such as proper training methods and a suitable diet.
The project's founding vision sought to bolster Crysbro's already significant social contribution as a key pillar of the country's rural economy, thus creating sporting opportunities and promoting the message of staying physically and mentally active.
Source : https://www.ft.lk/