At the recently held SLIM DIGI Awards 2021, the leading poultry producer, Crysbro won the bronze award in the category Education/ Training/ Health Care/ Hospitality/ Real Estate & Construction/ CSR for their CSR campaign 'The Crysbro Next Champ'. The Crysbro Next Champ was the only digitally driven CSR campaign to win at the prestigious annual awards ceremony, which acknowledges and celebrates excellent digital marketing efforts led by organizations in a variety of industries in Sri Lanka.
The primary goal of Crysbro Next Champ project is to find and develop bright young athletes, as well as to refine their potential to compete on a global level. Crysbro, with the support of National Olympic Committee of Sri Lanka (NOC SL), should be funded all aspects of these young athletes' journey to the international sporting arena as the first phase of one of Sri Lanka's most notable Scholarship Programs.
Crysbro Next Champ project not only recognizes and rewards young sporting talent from across the country, but also provides expert advice on topics such as optimal training methods and nutrition to budding athletes from a variety of sports disciplines. Crysbro's already considerable social contribution as a crucial pillar of the country's rural economy was to be bolstered by generating sporting possibilities and promoting the idea of being physically and mentally active, according to the project's founding goal.
Crysbro launched an online portal " Next Olympic Hope" in partnership with the NOC SL, which allows locals and athletic fans to financially sponsor rural athletes, school sports associations, sports clubs and chambers for the first time in the South Asia region. All donations collect through this portal will be disbursed in full to the organizations to which they were donated, a process that will be closely monitored and supervised by NOC SL.
"As a home-grown organization, the vision of Crysbro has always been to drive sustainable positive change in rural communities in Sri Lanka while supporting the economy. We are honoured to collaborate with the NOC SL to empower the national athletic ecosystem of the country. It is our sincere hope that these young athletes will undoubtedly go forth to bring much glory to our motherland at major international sporting events. While it is certainly rewarding to help these young athletes realize their aspirations of winning a medal at these games, our primary objective would be on supporting the journey and the holistic development of each athlete that involves a series of training sessions. We are very proud to develop the first-ever crowdfunding platform in the South Asian region to support Sri Lankan athletes. Our efforts were aimed to elevate the experiences of unprivileged athletes in different parts of the country with big dreams. Winning this award gives us more encouragement to support more athletes and collaborate with more stakeholders in the athlete ecosystem. I thank the Maya team for having faith in our vision and goal." stated Crysbro Senior Marketing Manager Amores Sellar.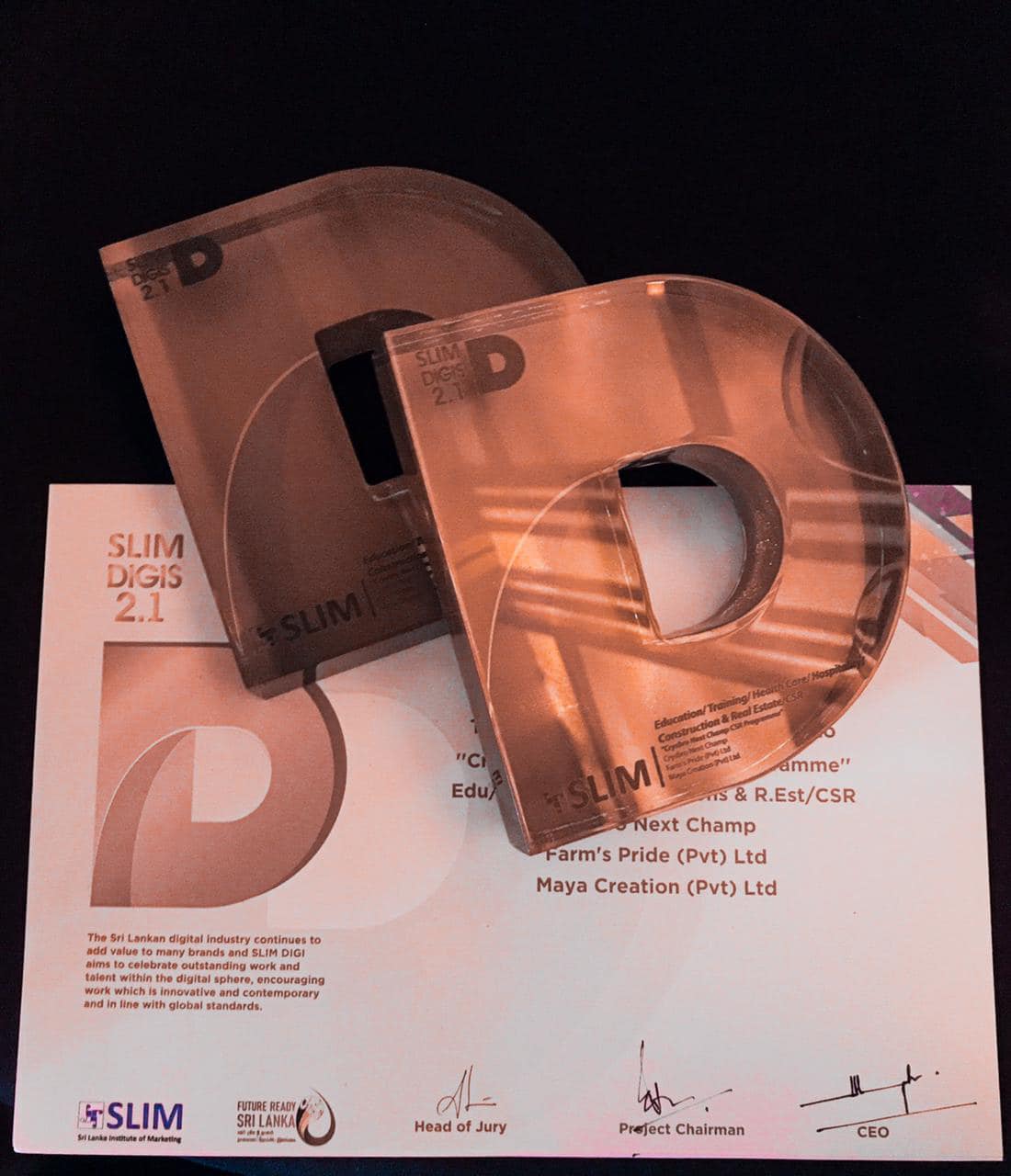 Discussing the award, CEO at Maya, Ian Iddamalgoda said, "As the agency that handled the digital marketing campaign the Crysbro Next Champ, we feel extremely proud and honoured to be recognized by the Sri Lanka Institute of Marketing. We are grateful to Crysbro for believing us in developing the Crysbro Next Champ project digital marketing strategy. Crysbro Next Champ was our very first SLIM Digis entry and the only entry to the awarding ceremony, having our digital marketing campaign recognized by the industry is a great encouragement to our team. We are proud to say the crowdfunding platform developed to support the national cause is one of its kind and the very first portal in the South Asia region developed for athlete ecosystem empowerment. I must thank my talented and dedicated team here at Maya, without their dedication this would not be a possibility. Our main aim of applying for this prestigious award was to bring another glory and empowerment to Sri Lankan athletes."
The Sri Lanka Institute of Marketing (SLIM) organized the SLIM DIGIS 2.1 to identify and reward Sri Lanka's best digital marketing efforts and talents. It is one of Sri Lanka's most prestigious awards programs that recognize innovation and emerging talent in the digital marketing space.