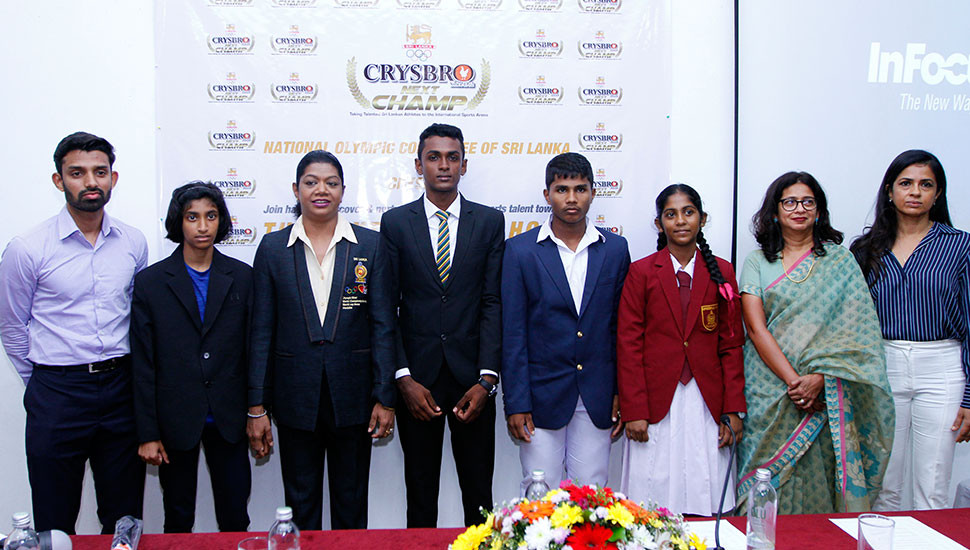 By Anjana Kaluarachchi 
Lack of support for talented young athletes has always been a main area of concern when considering the downfall of athletics in Sri Lanka, where top young athletes tend to give up athletics at the end of their school career.
Crysbro along with the National Olympic Committee of Sri Lanka (NOCSL) has now come up with a project to change that course, where they will sponsor young athletes from the tender age of 15-16 to win international medals as a first step of their mission to produce Sri Lanka's next Olympic medalists.
Crysbro signed a landmark MOU with NOCSL to launch the 'NOCSL-CRYSBRO Next Champ' scholarship programme yesterday at the Sri Lanka Foundation Institute where they will invest Rs 20 million initially for the project.
The objective of this magnanimous partnership is to uplift talented young athletes to the international sports arena.  Under the agreement, Crysbro will serve as the sponsor for 20 deserving athletes scouted by NOCSL, with potential to qualify for the Youth Olympic Games 2022, Asian Games 2022, Commonwealth Games 2022, and South Asian Games 2021.
Scouting for potential athletes was done by a panel which included Olympic medalist Susanthika Jayasinghe, SAG medalists Ineka Cooray, former South Asia's fastest man Shehan Ambepitiya and Olympian swimmer Reshika Udugampila.
Shehan Ambepitiya stated they contacted all National Sports Associations to nominate their top Under-16 candidates for the said scholorship, and then interviewed each and every one of them. They have taken into consideration their last two years performance and Youth Asian Championship and Youth Olympic qualification standards when shortlisting names, and have selected five athletes initially to launch the programme.
"We will be selecting the next five athletes at the end of this month, and then will keep 10 slots open where young athletes will get this message and be motivated to perform in the upcoming events. We will then select those ten considering their performance at these events," said Ambepitiya.
He said the selected 20 athletes will be sponsored to the tune of Rs One million each per year, which will cover expenses such as nutrition, transportation costs, coaching fees, accommodation, logistics (such as clothing, sports gear), and medical expenses. A separate fund will be maintained to cover expenses of international events.
"We are working towards providing at least two international events per athlete per year to give them much needed competition exposure which Sri Lankan young athletes are lacking," said Ambepitiya.
Their initial target will be the 2021 Asian Youth Champonship , Youth Commonwelath Games and Youth Olympic Games.
In addition, this partnership will see the launch of an online portal, which for the very first time in Sri Lanka will enable members of the public to financially sponsor rural athletes, school sports associations, sports clubs and chambers. All funds collected through this portal will be fully disbursed to the entities they were contributed, a process carefully overlooked and strictly managed by NOCSL.
The five athletes selected so far are: Ravindu Jayasundara (Athletics), Tharushi Karunarathne (Athletics), Milka Gehani (Gymnastics), Sachini Laksarani (Weightlifting) and Deshan Kumara (Weightlifting).