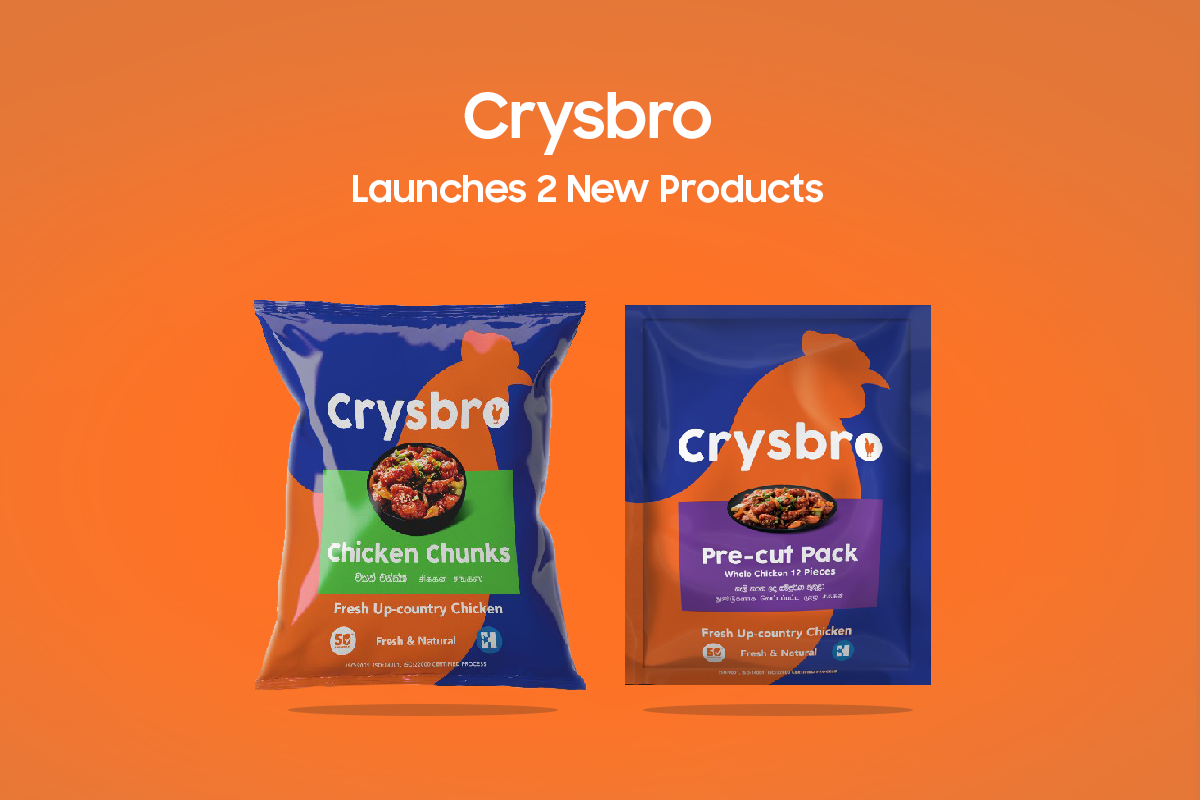 December, 2022: Sri Lanka's leading poultry producing giant Crysbro, renowned for its commitment to world-class quality assurance as well as an industry-leading vertically integrated manufacturing process, recently announced the launch of two new poultry products to the local market.
A guaranteed quality-controlled and home-grown product from start to finish, the two new products are the "Crysbro Chicken Chunks" pack and the "Crysbro Pre-Cut". " Chicken Chunks Pack" is made in whole chicken diced after freezing generally 1×1 inch pieces with bone and skin and "Pre Cut Pack"  is designed in frozen 12 pieces of whole bird with bone and skin (neck, 2 wings, curry piece, 4 breast pieces, 2 thigh, 2 drumstick)
Both new products are ISO 9001:2015, ISO 14001:2015, ISO 22000:2018 and Halal certified, reassuring the consumer that they are purchasing a high-quality poultry product.
As a company that realises the daily hardships people go through especially when cooking, Crysbro goes the extra mile to ensure ease and convenience in every person's busy lifestyle, with giving real culinary experience under the range of chicken parts pack products, which include Breast, Thigh, Legs, Winglets, Liver, Drumsticks, Gizzard and Home Packs, all at affordable price points.
Commenting on the recent launch, Crysbro Group Manager- Marketing Amores Sellar said: "Our new poultry products are innovatively created to suit the current economic situation in the Country with more convenient personal preferences of every consumer. While convenience and nutritional value come with no doubt, the consumers can enjoy their chicken knowing that they're consuming a product that was crafted with much attention to detail and care, every step of the way."
Crysbro's operations run within a vertically integrated manufacturing process, meaning the entire production process is in-house, starting from farmlands, feed production, and grandparent chicken breeding farms, parent chicken breeding farms, hatchery, broiler farms, processing, and packaging, to an island-wide delivery system. This helps keep the level of quality at an all-time-high, with little to no room for error.
Additionally, this allows the company to proactively adapt to changing customer needs, without cutting down on, or halting operations for procedure overhauls.
Crysbro's commitment to refined manufacturing process adaptation and food safety is beyond significant, and the poultry giant follows all hygiene and biosecurity standards leaving no room for health and food safety discrepancies in the overall operations front, as well as supply chain, from hatcheries, broiler farms, to production, processing and transportation.
About Crysbro
Established in 1972 with just 100 chicks and a deep desire to be a market leader in quality and innovation and Crysbro is celebrating its 50 anniversary in 2022, has emerged as Sri Lanka's first and most sophisticated, fully vertically-integrated poultry producer. Its operations span grandparent and parent farms, hatcheries, broiler farms and feed mills. This thriving 'Farm-to-Fork' concept has formed the core of its success. In turn, it has yielded unprecedented benefit for numerous stakeholders including direct and indirect employees, out growers, domestic maize farmers and ultimately Sri Lankan consumers.