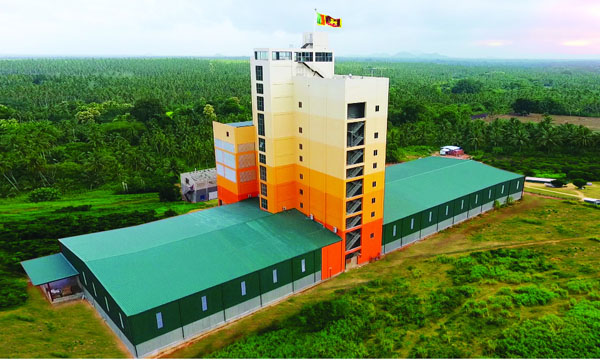 Continuing its rich reputation for embracing innovation, leading Sri Lankan chicken producer Crysbro has acquired the region's most technologically-advanced chicken feed production machinery.
The new machinery, housed in a Kurunegala-based chicken feed mill belonging to Crysbro subsidiary Fortune Agro Industries Ltd, will improve the company's production speed and efficiency. This poultry processing plant is fed maize through both the crops of local farmers and major foreign suppliers.
When dealing with Sri Lankan farmers, Crysbro ensures that they are compensated for their produce within 24 hours of them supplying it, bringing stability to their livelihood. Upon its receipt, the maize is then weighed and stripped of its moisture before being transported to a production house. The farmers will then be paid for the quantity supplied through a transfer to their bank account.
However, Crysbro Senior Marketing Manager Amores Sellar stated that local maize production was still insufficient to match current demand, putting the entire Sri Lanka chicken production community in a tough spot.
"For local use, the country needs an annual requirment maize production of 400,000 metric tonnes but we can only produce approx 200,000 metric tonnes locally. Therefore we have had to import the rest. And for every kilo of maize that we import, we have to pay Rs. 10/50 in taxes to the Government. For every kilo of chicken that we sell, we also have to pay Rs. 85 in taxes. If the tax systems were improved, this advantage could definitely be passed down to consumers. The best and cheapest source of protein in Sri Lanka is chicken, so it is the government's and customers' responsibility to protect this industry."
Fortune Agro Industries Ltd. is equipped with the capacity to produce 400 metric tonnes of raw material a day but currently produces a daily output of only 200 metric tonnes due to a shortage of raw materials. What makes the Fortune Agro production mill further unique is its special layout. While other production factories conduct all their different processes throughout their premises, Fortune Agro operates in a top-down manner at the same premises.
This has translated into the main production factory being 11 storeys tall. The maize that is to be converted into chicken feed is sent up to the 10th floor to undergo a meticulous process. While most other chicken feed production factories in the region have buildings made out of metal, all of Crysbro's structures are constructed entirely of concrete, helping to keep out bacteria and prevent potential food contamination.
In order to improve production quantities and reduce the waste released into the environment, Fortune Agro complies with numerous international best practices and standards.
"The closed loop process system, which is used by many developed countries, was used as a foundation around which we built our production processes. We can say without a doubt that this is the only factory in South Asia where waste output is completely controlled and maintained. We use special filters to collect airborne particulate particles released during the production process and re-integrate the particles back into the production process without releasing them into the atmosphere," revealed Fortune Agro's Factory Engineer Lalith Bandara.
It has also earmarked four other machines for further improvements in the hope of expanding total production to 800 metric tonnes.
Both the maize used and the chicken feed manufactured are in accordance with international standards and a sample of each product is sent for laboratory quality testing before being used. It is vital to know that there is an adequate level of vitamins and other essential constituents in poultry ingredients and to be certain that these foods do not contain harmful substances.
Established in 1972 with just 100 chicks and a deep desire to be a market leader in quality and innovation, Crysbro has emerged as Sri Lanka's first and most sophisticated, fully vertically-integrated poultry producer. Its operations span grandparent and parent farms, hatcheries, broiler farms and feed mills. This thriving 'Farm-to-Fork' concept has formed the core of its success. In turn, it has yielded unprecedented benefit for numerous stakeholders including direct and indirect employees, outgrowers, domestic maize farmers and ultimately Sri Lankan consumers.